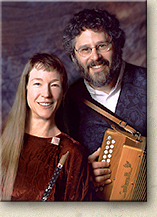 TRADITIONAL IRISH MUSIC
CELTIC WEDDING MUSIC
by INNISFREE
Contact: Brenda or Jim (503) 282-3265
E-mail Innisfree
UPCOMING CONCERTS:
Kiss Me, I'm Irish with Portland Story Theater
Saturday, March 12th, Doors 7pm, Show 8pm
Alberta Abbey, 126 NE Alberta, tickets: www.portlandstorytheater.com

Should be fun, especially if YOU come!
TYPES OF MUSIC
We specialize in heartfelt Irish/folk instrumentals and songs for wedding ceremonies, receptions and other joyful events. Our strength lies in adapting this gorgeous music to each unique ceremony, calling on our long wedding experience and drawing from the rich storehouse of airs, songs, jigs and reels in the tradition. At receptions we play sweet waltzes and great dances to encourage brides, grooms and loving fathers to step out in dances you'll always remember! Multi-instrumentalists, we perform on whistle, guitar, Irish drum, concertina, button accordion and mandolin. We can perform non-Irish standards and are happy to learn requests (songs and instrumentals) as well. And, of course, our top-quality sound system is yours to use. Please call for a demo!

Click here for music samples:
Star of the County Down

Calliope House


UNFORGETTABLE MUSIC
We've found that couples are thrilled to use the Irish music they love, tailored to fit their own wedding. A husband-and-wife duo ourselves, we will bring all the warmth we can to your special day.